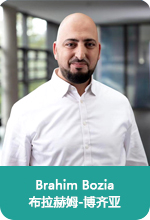 Brahim Bozia
Brahim Bozia is Distributor and Business Unit Manager for the Producer Segment of INDICAL BIOSCIENCE, a leading provider of advanced testing systems for the identification of animal diseases.
With a degree in organic chemistry from the University of Amsterdam, Netherlands, and over 15 years' experience in the veterinary diagnostics field, Mr. Bozia has a deep understanding of what veterinarians and lab technicians require. He has developed specialist knowledge in the areas of Salmonella, Influenza and Mycoplasma.
Before joining INDICAL in 2019, Mr. Bozia held various, increasingly senior, roles in veterinary diagnostics companies. At INDICAL, Mr. Bozia leads on distribution management, together with developing and expanding the product portfolio for the Poultry and Swine Integration segment.