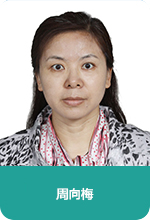 Professor Xiang Mei Zhou
Department of Veterinary Pathology, College of Veterinary Medicine, China Agricultural University
Tel: 86-10-62734618
Email: zhouxm@cau.edu.cn
Position: Deputy-director of Department of Basic Veterinary Medicine, College of Veterinary Medicine, China Agricultural University. Secretary-general and Vice-Chairman of Standing Councile, Experimental Animal Pathology Board of Chinese Society of Experiment Animal (2015-); Vice-Chairman of standing council of Chinese Association of Veterinary Pathology (2017-);Vice-Chairman of standing council of Chinese Veterinary Pathologists Association (2019-).
Prof.Xiangmei Zhou is an assessment expert for projects of National Natural Science Foundation Commission, Ministry of Science Technology(2013-). She is the invited reviewer for many journals like Journal of Biotechnology Advances, Scientific reports, PLOS ONE, The Journal of Veterinary Medical Science, BMC Genomics, etc.
The researches of Prof. Xiangmei Zhou focus on defining the molecular mechanisms by which mycobacterium establish infection. Her interests surround several issues in micro-host interactions with specific emphasis on functional genomics of mycobacteria in natural infections; the mycobacterium survival mechanisms in macrophages especially through the DNA-dependent cytosolic surveillance pathway or inhibition of autophagy. The translational aspect of these investigations is in the development of improved diagnostic tests and methods for microbial characterization and identification, as well as studies into new generations of antimicrobial candidates and therapeutics.