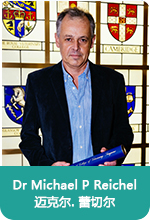 Dr Michael P Reichel
Dr REICHEL initially graduated from the Free University Berlin in Germany with a degree in veterinary medicine, then pursued a professional career predominantly in the Southern Hemisphere, in New Zealand, the Falkland Islands and then Australia. The work involved government service and laboratories (both public and private) and most recently academia, initially successfully setting up, with others, an internationally recognised veterinary degree in Adelaide, South Australia, as well as being the Founding Dean of the College of Veterinary Medicine and Life Sciences in Hong Kong, SAR China, a project in collaboration with Cornell University' s College of Veterinary Medicine.
Dr REICHEL has had a long standing interest and commitment to Veterinary Public Health, both, the classical Meat, Food Safety and Zoonoses side, as well as Population Medicine, and is a registered veterinary specialist in these disciplines not only in Europe, but also Australia and New Zealand. Dr Reichel has extensively published on abortifacients of cattle, Neospora caninum and Bovine Viral Diarrhoea in particular, and his citations place him in the top 1% of scientists in veterinary medicine according to Stanford University. He has been awarded a Fellowship by the Royal College Veterinary Science (London) and is a Fellow of the Australasian College of Veterinary Scientists.