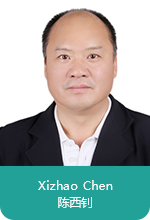 Xizhao Chen
Beijing Anheal Laboratories Co. Ltd.
CEO of Beijing Anheal Laboratories Co. Ltd.
Graduated from College of Veterinary Medicine, China Agricultural University in 1996.Has the title of Professor of China Animal Disease Control Center (CADC), and concurrently act as the President of Chinese Veterinary Laboratory Testing Association. Was the visitor scholar of Iowa State University.
Chen has leaded more than 10 national scientific research projects, The winner of the National Prize for Progress in Science and Technology (second prize) once. The winner of 4 other provincial and ministerial prizes. The owner of 9 national patent. He has made a regulation of 9 national and industrial standards(GB or NY), and compiled and translated 9 professional journals. He has published more than 40 papers in international professional journals. Chen has made great effort to the research and popularization of diagnostic techniques for major animal epidemic diseases and zoonoses in China.