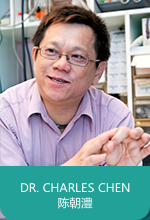 Dr. Charles Chen
Doctor
Dr. Charles Chen, Doctor of Veterinary Medicine (Board Certified Licensed Veterinary Clinician in Taiwan), Master of Science (Biomedical Material), Diplomate Asian College of Veterinary Dermatology (Founding diplomate)
Dr. Charles Chen graduated from Ping Tung Institute of Agriculture in 1982 and passed the National board examination in the same year.
1984 after finished Military service in Marine Corp he went to Japan and be an assistant in a private practice Yasiki Animal Hospital in Sagamihara city Kanagawa prefecture. Then he applied a non degree clinical research position of teaching hospital in Azabu University. He decided to dedicate himself exclusively to veterinary dermatology after finish the position in Japan March 1986.
Dr. Chen work in his private practice from 1986 in Taipei. He is a full member of American Academy of Veterinary Dermatology since 1995 and was the founder and President of Taiwan Academy of Veterinary Dermatology from 2002 till 2008. He was one of the founders and past vice President of Asian Society of Veterinary Dermatology (AISVD) from 2003 till 2008. Then be the President of AISVD (2008~2012). He is the first one who from Taiwan qualified as founding Diplomate of Asian College of Veterinary Dermatology (AICVD) in 2005, and be the Vice President of AICVD since then (2005~2008). Dr. Chen are interesting in wound healing, He had study in the field of Biomedical Material in Taipei Medical University and got his Master degree of Science 2005.
Dr. Chen is the pioneer of veterinary dermatology in Taiwan as well as in Asian area.